Tales Frey, One Hundred and Thirty-Two Corporeal Figures as Signical Mediations, 2020. Video, 2'48". Edition: 15 + 2 P.A.
This video art was created as part of the degree in Theater at the University of Minho, where I was invited to teach a practical discipline (Laboratory 6), through which I received full freedom to elaborate a work together with the students of the course.
As there would initially be a partnership between two institutions from different and distant contexts (University of Minho and Buffalo State – The State University of New York), I aimed to create choreographic scores that could be activated anywhere in the world and by any group of people and such scores would appear based on the proposition Corpo Coletivo (1970) by Lygia Clark and culminate in a structure that united performers and audience across lines (mentioning Clark) and wrapped them in different wrappings that would resume my creation Conjunto Sensível (2018 ), so that the notions about democracy occur in a practical way in a choreographic, sculptural and sensorial work that harmonizes distinct singularities.
Behold, fifty years after Clark's work, the planet is going through a pandemic that makes us avoid physical contacts so that the speed of the spread of a virus is contained and, thus, we are forced to completely transform our creative process, migrating from the tactile to the virtual experience and, thus, the partnership between the institutions ended up not being useful at this moment.
Even though we have kept motes previously initiated, we moved from what we envisioned to happen as a live action for video performance and, later, for video art, having as aesthetic references some artists: André Lepecki, Erwim Wurm, Hélio Oiticica, Loïe Fuller and, of course, Lygia Clark.
From online meetings and our incarcerations in our homes, we used materials that were within reach (monochrome clothing and accessories, white sheets and cell phone cameras and recorders) to produce images that express the circumstances in which we are inserted, considering the notions of real and virtual, distancing and approximation, ephemeral and lasting time, freedom and imprisonment, differences and patterns etc.
The bodies shown in the video form an intertwined set of sign collages, which can hardly be analyzed in a singular way, since the tangle of hybrid physicalities mix people with adornments / indications in a structure in which we do not know who a voice really belongs to, nor we are able to intuit the certainty of where a particular domestic noise comes from, as the environments are almost identical in white tones.
Instructed, eleven performers elaborated twelve different corporal figures each, totaling one hundred and thirty-two physical structures and, although we clearly see that they are separate bodies that come together, once together, we do not decipher them separately.
Credits
Proposition by Tales Frey | Performers (creation of texts and bodily constructions): Beatriz Marinho, Joana Delgado, João Arsénio, Joshua Swift, Júlia Antunes, Maria Maciel, Marcia Fernandes, Marta Oliveira Pinto, Nádia Monteiro, Natalie Hofmann and Sophia Ferreira | Porto/Guimarães, Portugal 2020
HISTORIC
[2021] 29th Quinzena de Dança de Almada – International Dance Festival, Videodance Show 2021. Almada, Portugal.
[2021] Shared Skins. Oficina Cultural Oswald Andrade, São Paulo-SP, Brazil.
[2021] Between Tension and Delirium. CAAA Centro Para os Assuntos da Arte e Arquitectura, Guimaraes, Portugal.
[2020] Perfo-Red Mx #Confinamiento – Ciclo De Videoperformance – #Fase 3. Online. Curatorship by Pancho Lopez, Mexico.
[2020] Indicadores da Carne. Galeria Ocupa, Porto, Portugal.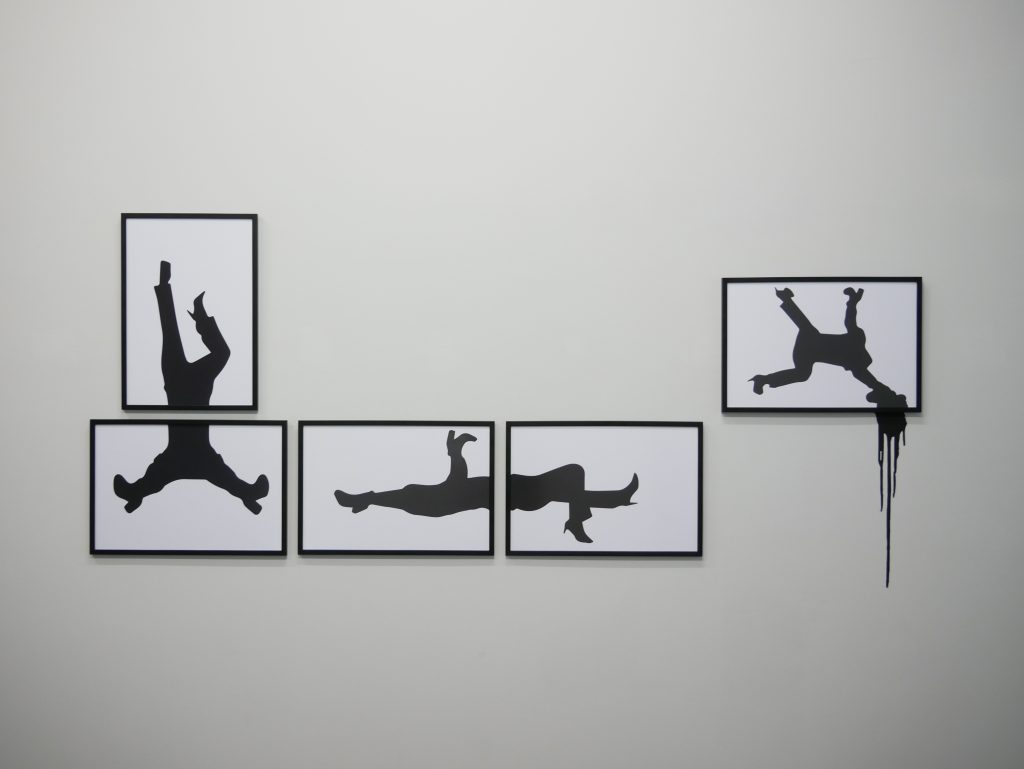 Tales Frey, One Hundred and Thirty-Two Corporeal Figures as Signical Mediations, 2020. Digital drawing, 60 x 40 each. Edition: 15 + 2 P.A.