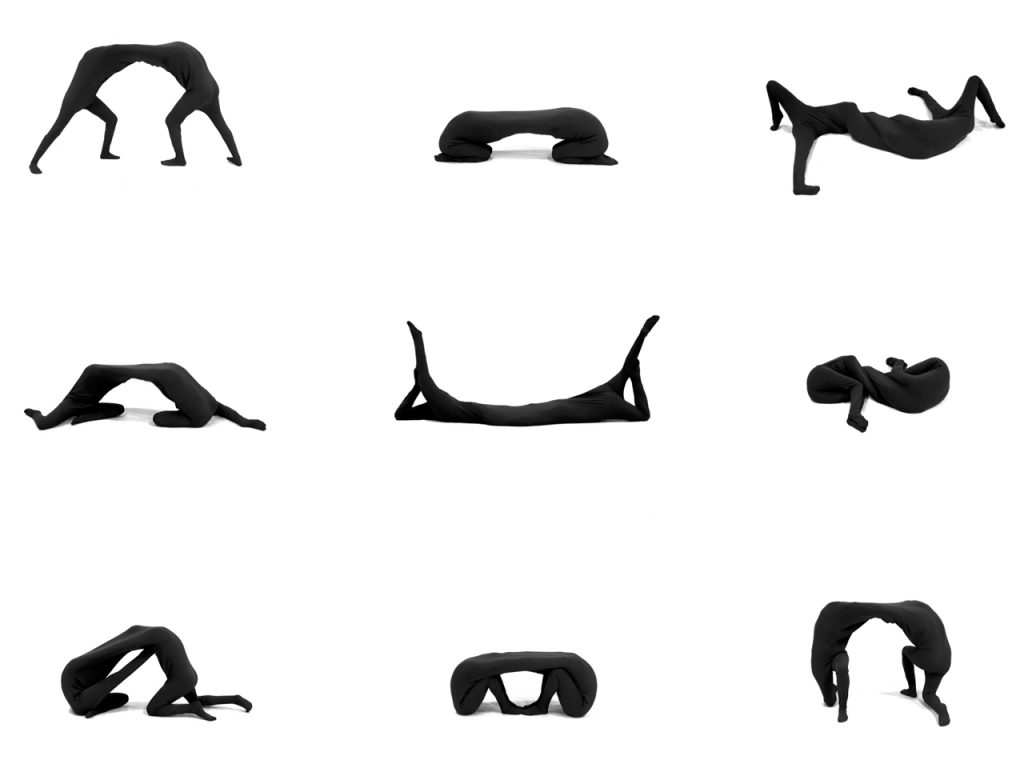 Tales Frey, Common Point, 2017. Photos, 6 x 8 cm each. Edition: 10 + 2 P.A. each
Visually, I propose a kind of kinetic sculpture in which two bodies – connected under the aid of a specific costume – coexist for an estimated time within a single costume, which makes them both seem to dance glued around the space when they are simply moving for the environment.
If on the one hand we can imagine a convergence of two lives, on the other we fantasize the opposite: the divergence. We allude to the binary fission of unicellular organisms and we see, at one and the same time, the moment that can mean so much as a separation, both we see arise or dissipate two existences, mixtures or representation of the birth with the announcement of death.
This action is the 5th creation belonging to the Memento Mori series, through which I transform the rites of passage of my birthdays into performance actions. In this creation, I count on the exclusive participation of my sister born exactly one year before me. June 20 is the day we together celebrate our anniversary.
CREDITS
Performance art by Tales Frey | Exclusive participation by Paola Frey | Production: Cia. Excessos | Length: About 40 minutes
HISTORIC
[2022] SESC Santo Amaro. Sao Paulo-SP, Brazil.
[2022] SESC Campinas. Campinas-SP, Brazil.
[2019] SESC Santo Amaro, Sao Paulo, SP, Brazil.
[2019] SESC Jundiaí, Jundiaí, SP, Brazil.
[2018] SESC Vila Mariana, Sao Paulo, SP, Brazil.
[2018] LIMIAR. SESC Bauru, Bauru, SP, Brazil.
[2018] SESC Sao Carlos, Sao Carlos, SP, Brazil.
[2017] FIT – International Theatre Festival of Rio Preto. SESC Rio Preto, Sao Jose do Rio Preto, SP, Brazil.
[2017] Singular Look: An Invitation to New Perspectives. Pinacoteca João Nasser, Catanduva, SP, Brazil.
Tales Frey, Common Point – Bauru, SP, Brazil, 2018. Video, 2'44"