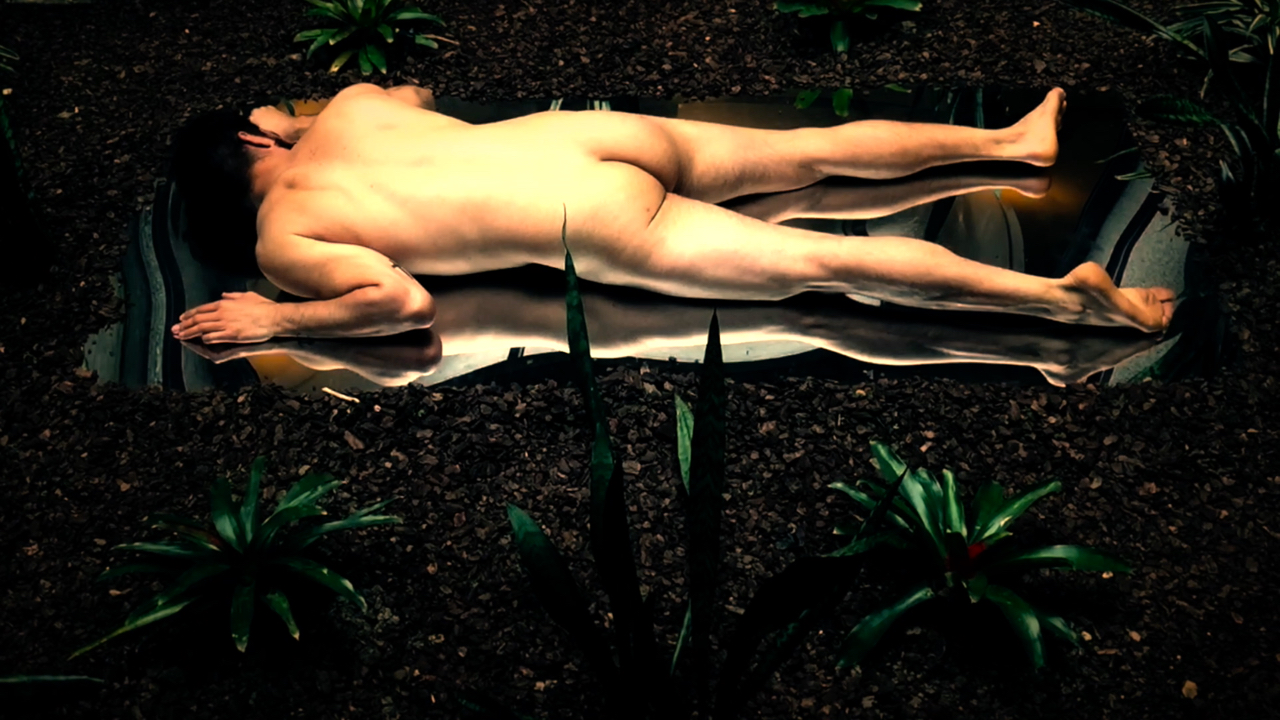 Tales Frey, Reverse – Variant I. Performance art realized in Maia, Portugal. June 2015. Photo by Manuela Matos Monteiro, 45 x 80 cm. Edition: 5 + 2 P.A.
In this first variant of the original action entitled only as Reverse, I present my own body lying in symmetrically opposite of the ghostly body formed in the reflection of a mirror arranged on a garden. I expose my illusory representation as a body mass in a decomposition process in a lair for who attentive on the image shown on the mirror and, at the same time establish a narcissistic iconographic composition for who observe my palpable body, my real body contemplating my own constitution as image as if I could notice the irrepressible decay inherent in our human condition.
CREDITS
Performance by Tales Frey | Length: 1h | Realization: Cia. Excessos | Maia, Portugal 2015
HISTORIC
LIVE
[2015] Show of Performance art. Curated by José Maia. I Biennial of Maia: Places of the Trip, Maia, Portugal.
AS VIDEO AND/OR PHOTOGRAPHY
[2017] Collective Exhibition Feminist Transits. Center for Social Studies, Coimbra, Portugal.
[2016] The Nature of the Margin. Curated by José Aparício Gonçalves. XX Queer Lisbon Festival, Oficina Irmãos Marques, Lisbon, Portugal.
[2016] Memento Mori. Centro para os Assuntos da Arte e Arquitectura, Guimaraes, Portugal.
Tales Frey, Reverse – Variant I, 2015. Video, 49''. Edition: 5 + 2 P.A.