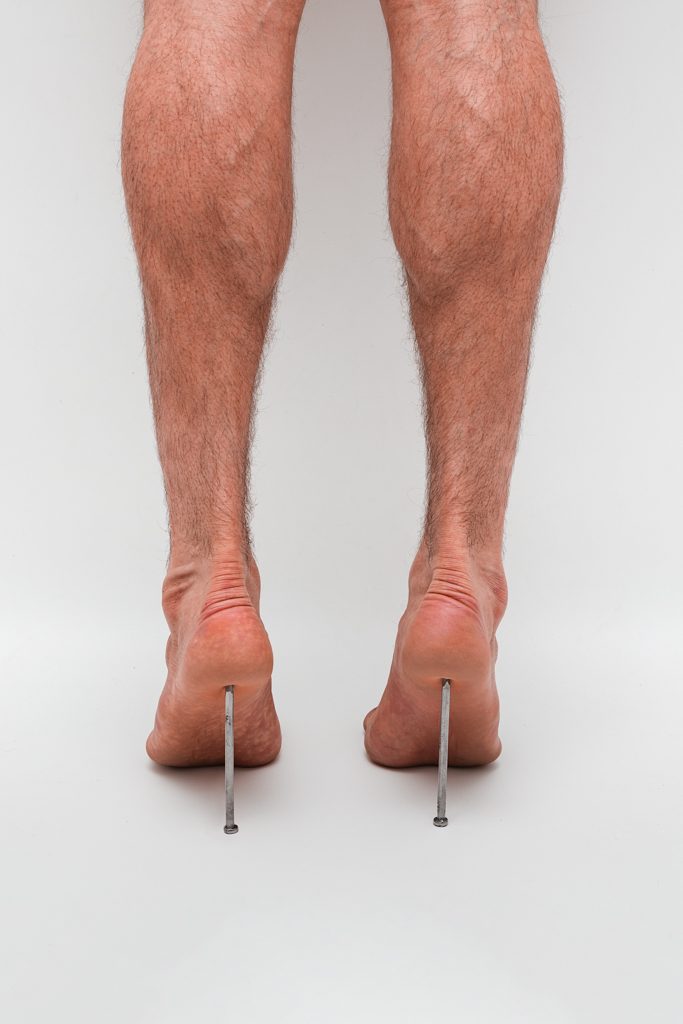 Tales Frey, Il Faut Souffrir pour Être Belle, 2018. Photography, Edition: 5 + 2 P.A.
Tales Frey, You have to suffer to be beautiful, 2018. Video performance, 2'03''. Edition: 5 + 2 P.A.
Presentation of the performance art Il Faut Souffrir pour Être Belle during the exhibition "Sharing Illusions" at Verve Gallery in São Paulo. July 2022
On the tips of two large nails, I support my heels and balance myself on such objects for a short time, and then, as I do not resist, I break the erect posture and, again, I balance myself on the objects. I repeat the action over and over until my body is exhausted.
Evidently, in this creation, there is an allusion made to the use of high heels and, with that, the relationship between fashion and the ideal of beauty and pain. Metaphorically, in addition to the various layers of meanings that the work brings, this creation comments on the illusory idea of ascension so commonplace in our routines subjected to the reality of today's consumer society, where an arduous sacrifice hardly guarantees reaching the top and staying there.
This work can be presented as performance art, photography, and video.
HISTORIC
LIVE
[2022] Sharing Illusions solo exhibition. Verve Galeria, São Paulo-SP, Brazil.
[2022] Noche de Performance. AT|AL| 609 – lugar de investigações artísticas, Campinas-SP, Brazil.
[2019] Functional Metaphors for Bodies in Space. Monumental Gallery, Lisbon, Portugal
AS VIDEO AND INSTALLATION
[2022] Academia Corpus. Galeria do Lago. Museu da República, Rio de Janeiro-RJ, Brazil.
[2022] Be Ing – Genre / Identités / Représentations. Espace D'art Contemporain: L'angle. La Roche-Sur-Foron, France.
[2021] Poetic ou Political. Mupy Gallery. Porto, Portugal.
[2021] Montanhas D'Artes – Festival de Artes de Oliveira do Hospital, Paços do Concelho do Município, Oliveira do Hospital, Portugal.
[2021] What Can a Body Do?, SP-Arte 365 and Galeria Verve, São Paulo-SP, Brazil.
[2020] SP-ARTE Viewing Room. Galeria Verve. On-Line Program. São Paulo-SP, Brazil.
[2020] What is About Tomorrow. Arte Veine. On-Line Program. Curated by Nelson Ricardo Martins. Rio de Janeiro-RJ, Brazil.
[2020] IV Encontro Intercontinental e Intergaláctico de Performance – Buraco Negro, Caia Dentro. Casa Madá, Londrina-PR, Brazil.
[2019]9th Under the Subway Video Art Night, curated by Antonio Ortuno, Open Air Art Movie Cinema in Düsseldorf, German; JCC Harlem in New York City, USA; El Más Acá Club Cultural Asociation in Buenos Aires, Argentina; Atelier Sanitário in Rio de Janeiro (organized by Bruna Costa), Brazil; Convent Carmen in Valencia, Spain; Genalguacil Pueblo Museo in Málaga, Spain; ArtSpace in Mexico City.
[2019] Tijuana Performera, Enclave Caracol, Tijuana, Mexico.
[2019] Functional Metaphors for Bodies in Space, Monumental Gallery, Lisbon, Portugal.
[2019] Five Activation Tactics. Centro para os Assuntos da Arte e Arquitectura, Guimarães, Portugal.
[2018] The Body Never Exists in Itself – First Experimentation. Zsenne Art Laboratory, Brussels, Belgium.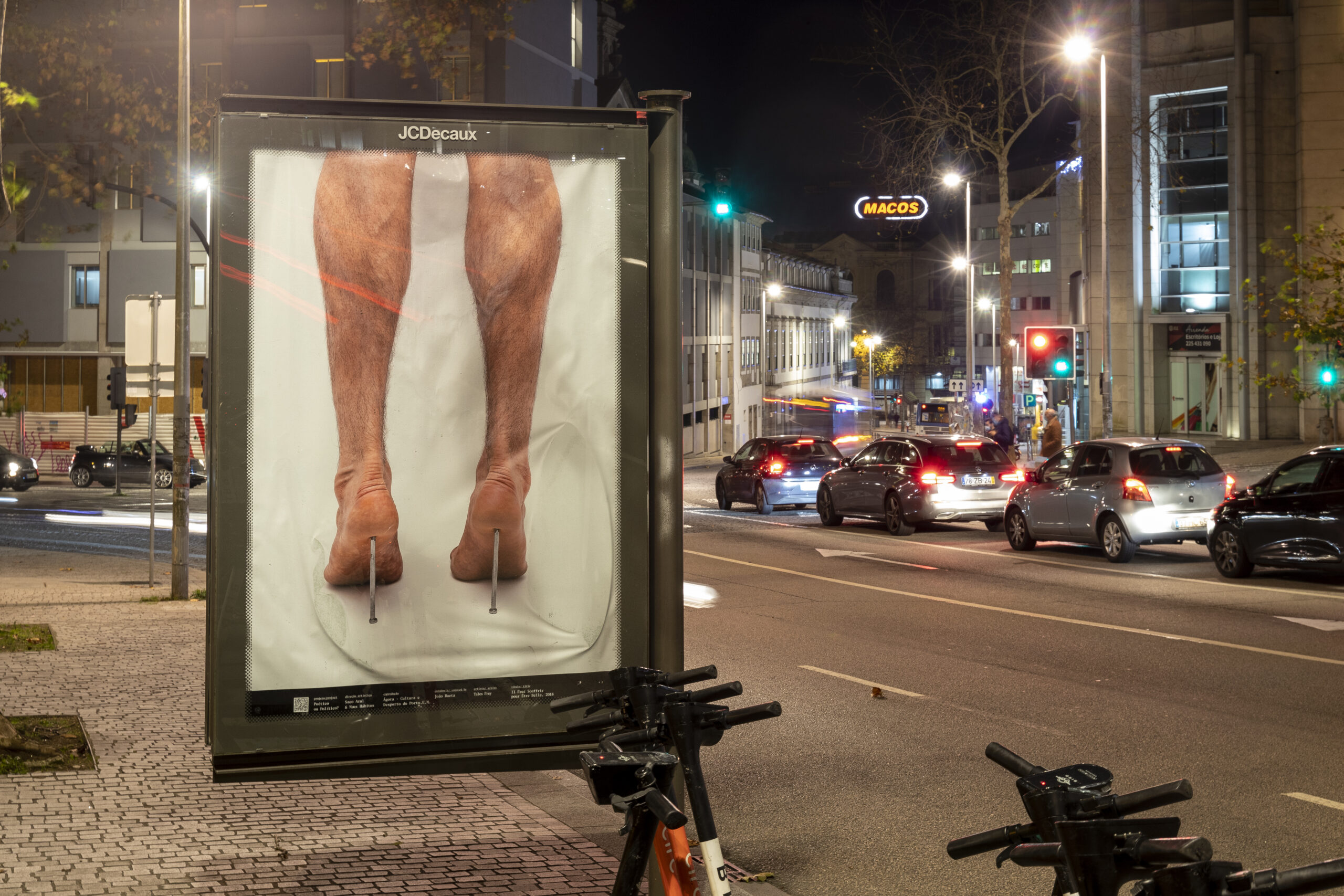 Il Faut Souffrir pour Être Belle (2018) during the collective exhibition Poetic or Political? (2021), with curatorship by João Baeta. Mupi Gallery, Porto, Portugal. Photo by João Pádua/Saco Azul