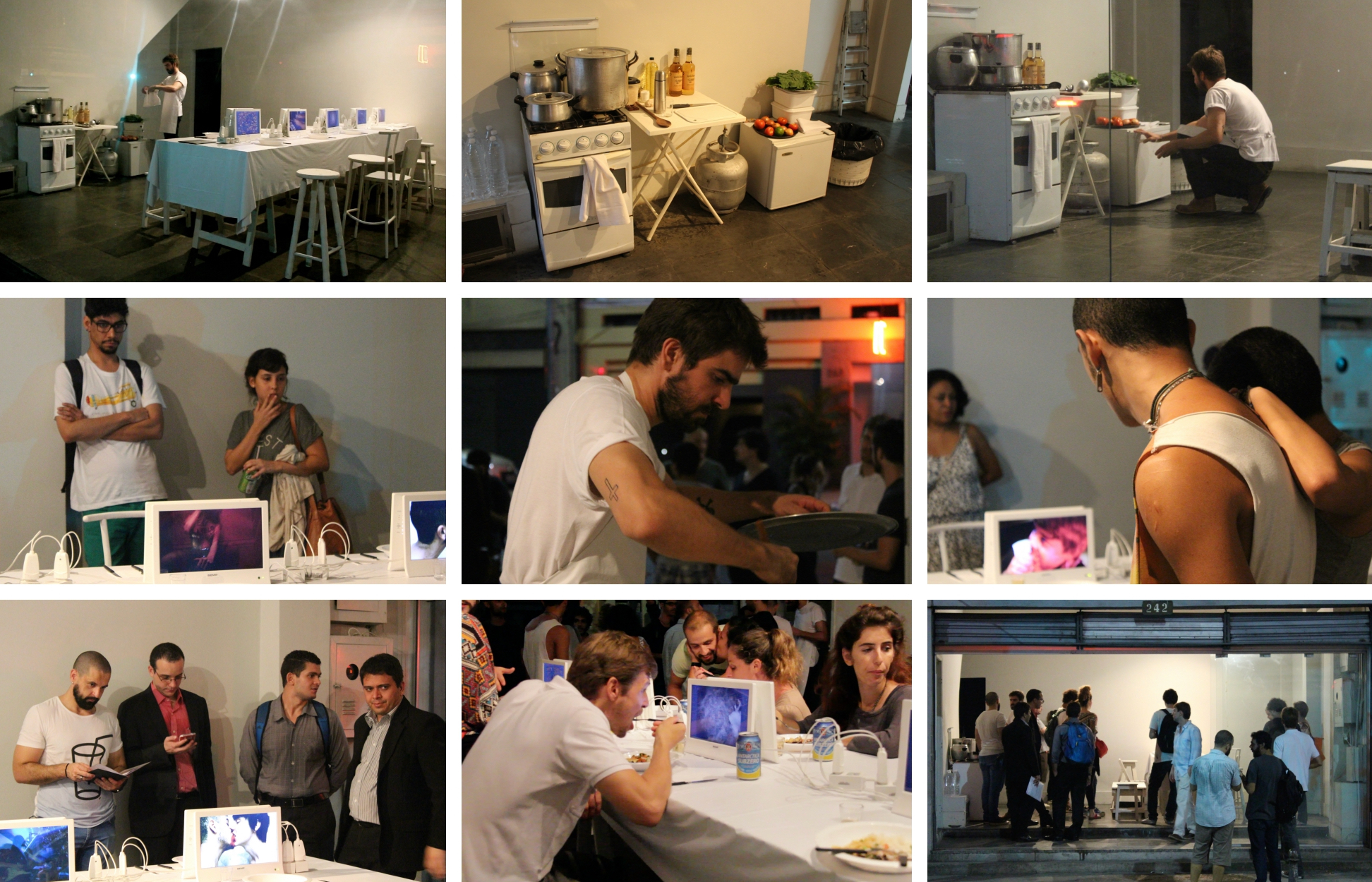 Performance art / Installation Orexia (2014), by Tales Frey. Photos by Nathália Mello
The miscellany of images that apparently were not related in a first configuration that occurred through a night disturbance, resulting, obviously, in a chaotic set of associations that generated a visibly schizophrenic cohesion, ended up making complete sense, discourse on the motes that delineate ideological thoughts of the eroticism art merged into an aesthetic of horror through ritualistic and, to a certain extent, anthropophagic ceremonial, mixing dissimilar ideas through a dinner served during the performance that gave rise to the Orexia exhibition, which is composed of eleven videos – six belonging to the dream and five others incorporated to work by theme affinity – as well as an installation provoked from the banquet: a "feijoada" (Brazilian typical food).
This performance-installation calls for literal hunger, as well as for an instinct orexia as the main source for the creative process, something that rejects logocentric, rational, phallocentric, "phalloologocentric" repression. All instincts are legitimate. All make up the same mixture as the feijoada in the exhibition space.
VIDEOS SHOWED
ORIGINATED FROM THE DREAM THAT INVOLVES PERFORMANCE AND INSTALLATION
Tales Frey, Coma, 2014. Video, 1'43" | Tales Frey, Ge tinto the Samba, 2013. Video, 9'05" |  Tales Frey, À-Terra-Dor, 2014. Video, 3'13" | Tales Frey, IDE!, 2014. Video, 4'55" | Tales Frey, Eu Falo, 2014. Video, 2'52" | Tales Frey, Segundo Bate-Boca, 2014. Video, 6'10"
VIDEOS, INCORPORATED AND ELABORATED ON THE BASIS OF OTHER DREAMS, PRIOR TO THE DREAM THAT POSSIBILATES THE EXPOSURE
Tales Frey, By a Thread, 2012. Video, 3'41" | Tales Frey, Cabra-Cega, o que Perdeste?, 2011. Video, 1'54" | Tales Frey, Hit-and-Miss, 2011. Video, 3'12" | Tales Frey, Hit-and-Miss II, 2011. Video, 2'25"
VIDEO INCORPORATED BY AFFINITY IN THE THEME, BUT IT IS NOT OF ONYRICAL ORDER
Hilda de Paulo/Paulo Aureliano da Mata, Abused Romance, 2011. Video, 4'30''
CREDITS
Performance art/Installation by Tales Frey | Duration of the action: about 3 hours | Production: Cia. Excessos | Rio de Janeiro, Brazil 2014
HISTORIC
[2014] Performance art / installation Orexia by Tales Frey. Barracão Maravilha, Rio de Janeiro, Brazil.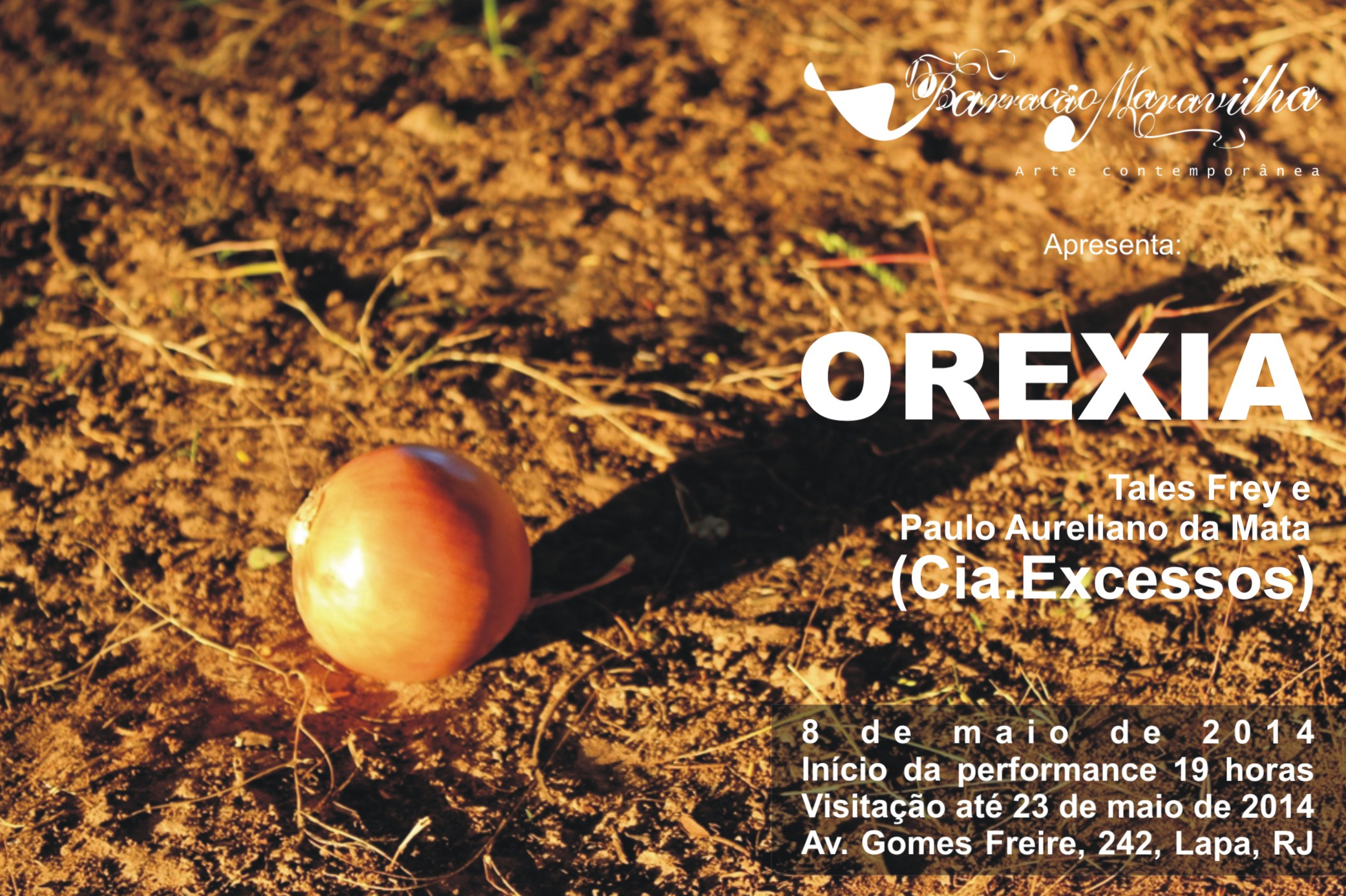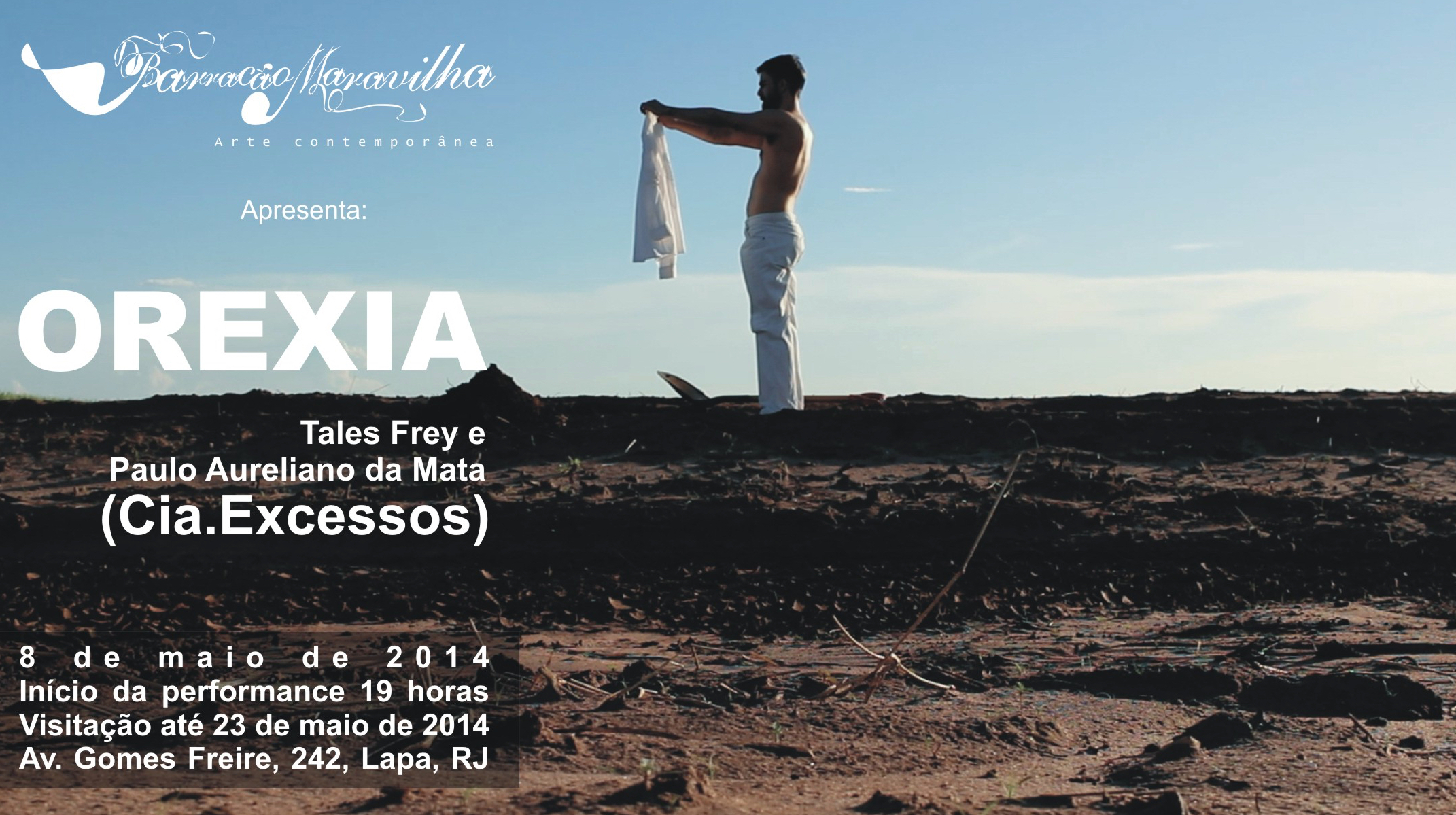 Posters of performance-installation / exhibition Orexia (2014), by Tales Frey
Tales Frey, Orexia – Rio de Janeiro, 2014. Video, 6'03"
Interview with Tales Frey about Orexia (2014) in Canal Curta