Tales Frey, Be (On) You, 2016. Video, 2'47"
Two cisgender male bodies* kiss their own images reflected in a single double-sided mirror for one hour without interruption while they move their connected bodies to different areas.
* At the time of the creation of the performance Be (on) You, Hilda de Paulo was still known as Paulo Aureliano da Mata. The artist began her gender transition in 2020, changing her name in the same year.
CREDITS
Performance art by Tales Frey | Exclusive participation by Hilda de Paulo | Production: Cia. Excessos | Length of the action: 1h | Monterrey, México, 2016
HISTORIC
LIVE
[2019] A! Performance Festival. Akureyri Art Museu, Akyreyri, Iceland.
[2019] The Performance Arcade 2019. Wellington, New Zealand.
[2017] SESC Santana. São Paulo, SP, Brazil.
[2017] SESC Registro. Registro, SP, Brazil.
[2016] Queer Porto (Second edition). Maus Hábitos – Espaço de Intervenção Cultural, Porto, Portugal.
[2016] III Internacional Biennial of Performance Art – HorasPerdidas. Curated by Celeste Flores. Monterrey, Mexico.
AS VIDEO AND/OR PHOTOGRAPHY
[2022] SESC Campinas. Campinas-SP, Brazil.
[2022] Group exhibition The Mallard's Paradise. Fonte, São Paulo-SP, Brazil.
[2021] What Can a Body Do? SP-Arte 365 and Verve Gallery, São Paulo-SP, Brazil.
[2019] The Performance Arcade – Video Series, TSB – Wallace Arts Centre, curatorship Sam Trubridge, Auckland, New Zealand.
[2017] 9º Encuentro de Acción en Vivo y Diferido/ Territorio Abierto. Casa de la Juventud de los Mártires, Bogotá, Colombia.
[2017] Conquista Ruas. Vitória, ES, Brazil.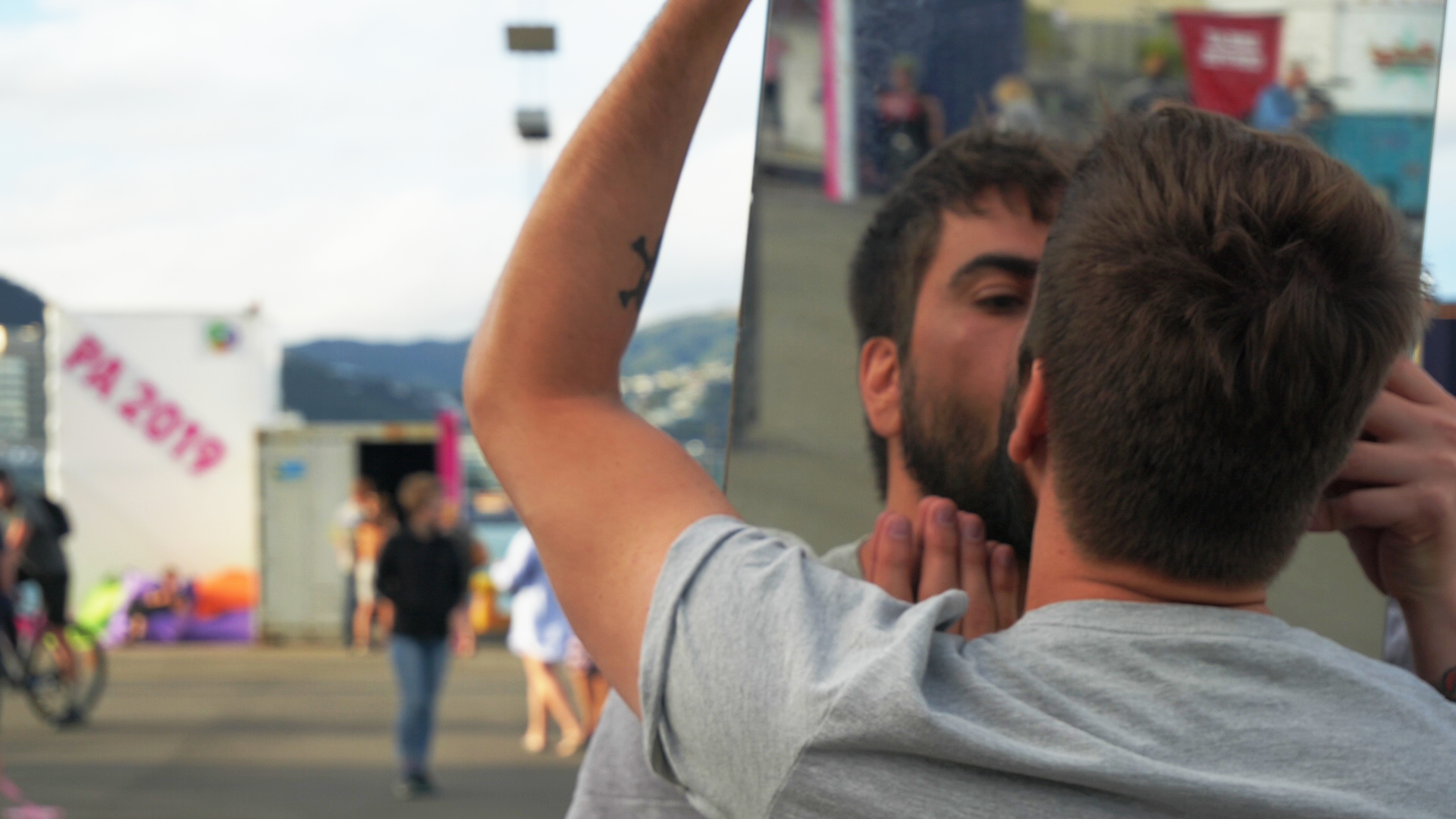 Tales Frey, Be (On) You. Performance art showed in Wellington, New Zealand. February 2019. Photos by Aaron Mitchell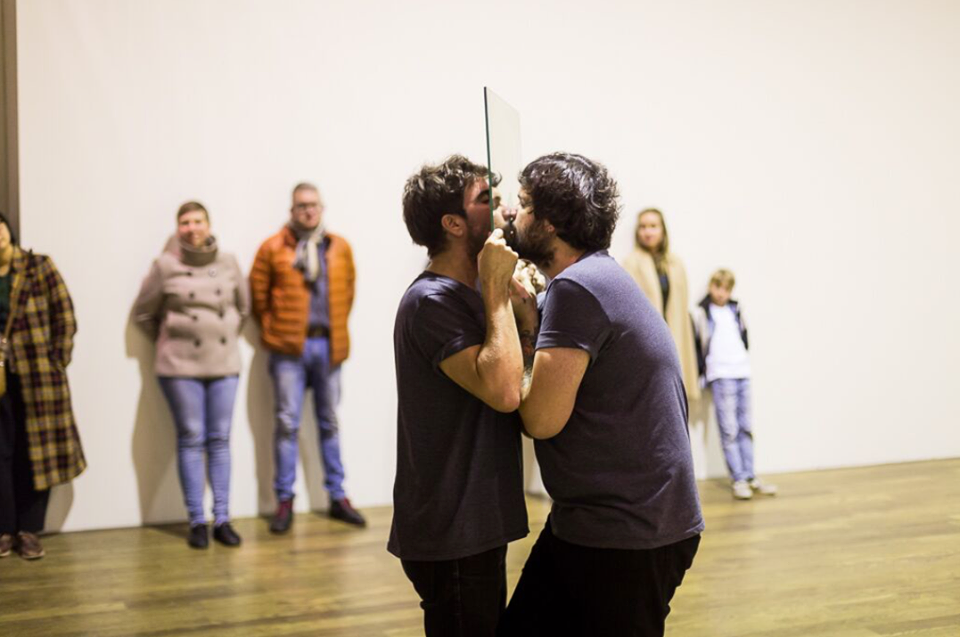 Tales Frey, Be (On) You. Performance art showed in Akureyri, Iceland. October 2019. Photo by Akureyri Art Museum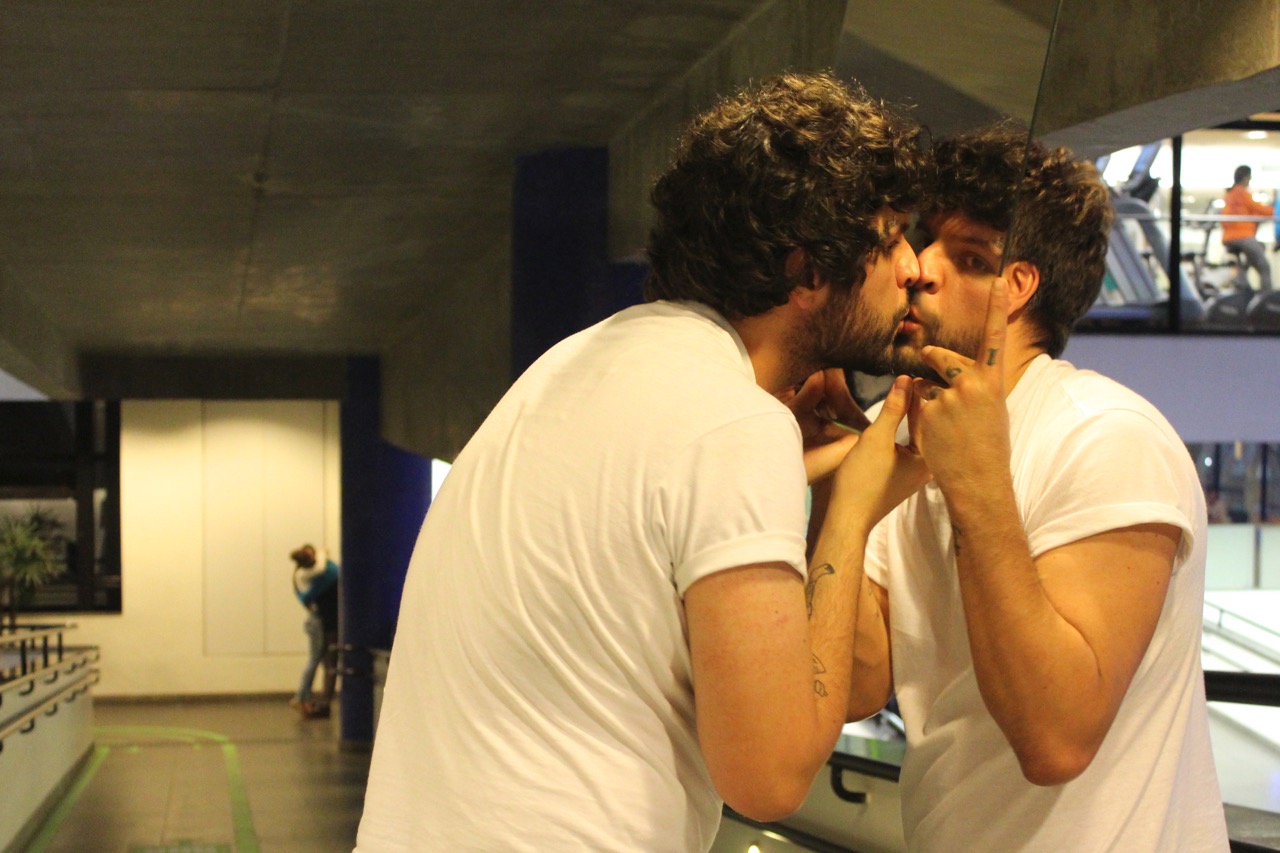 Tales Frey, Be (On) You. Performance art showed in São Paulo-SP, Brazil. July 2017. Photo by Eve Bonneau

Tales Frey, Be (On) You. Performance art showed in cidade do Porto, Portugal. October 2016. Photos by Stijn Lanters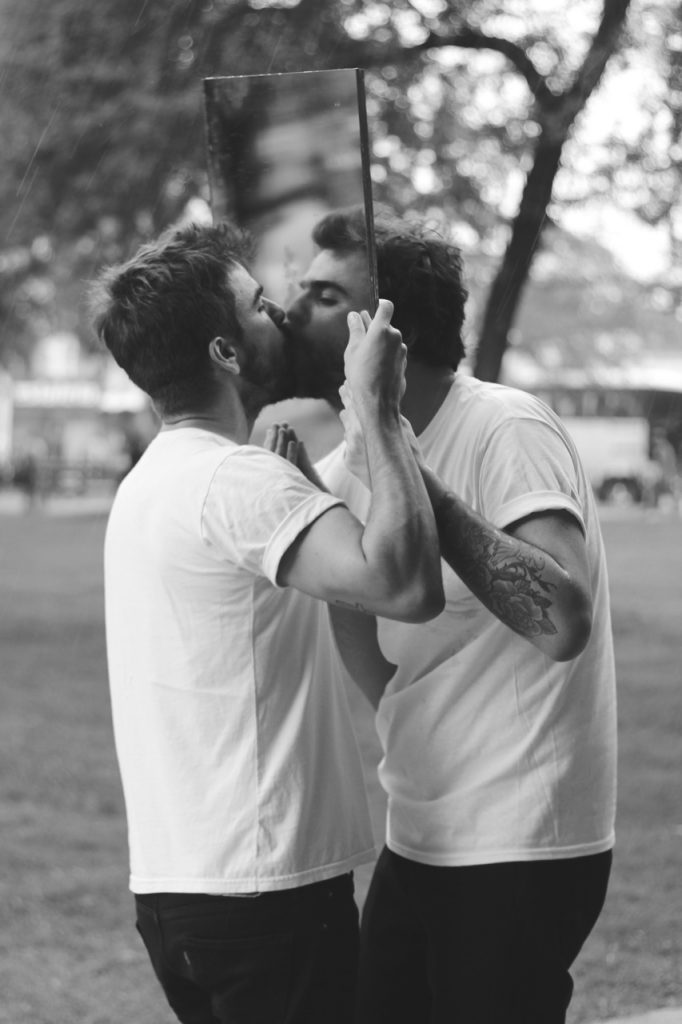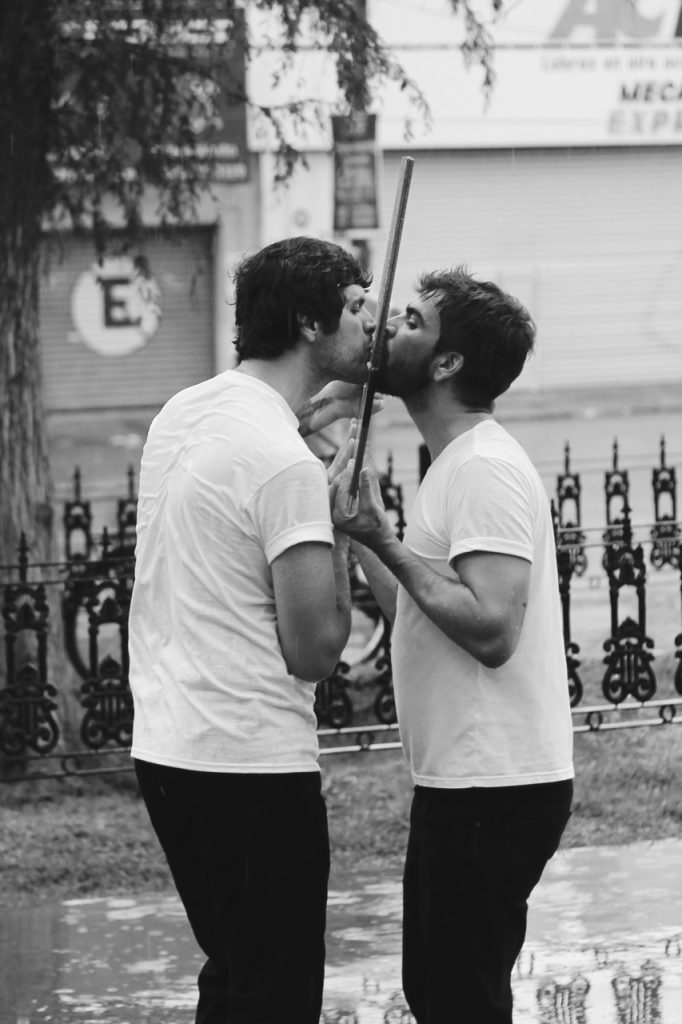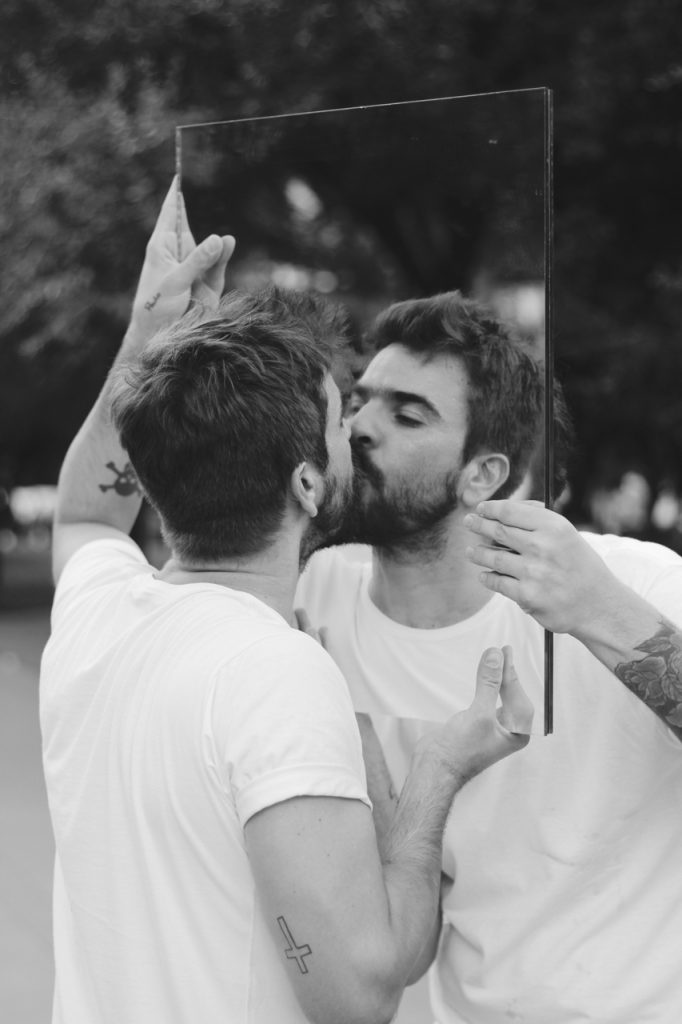 Tales Frey, Be (On) You. Performance art realized in Monterrey, Mexico. August 2016. Photos by Roberto de León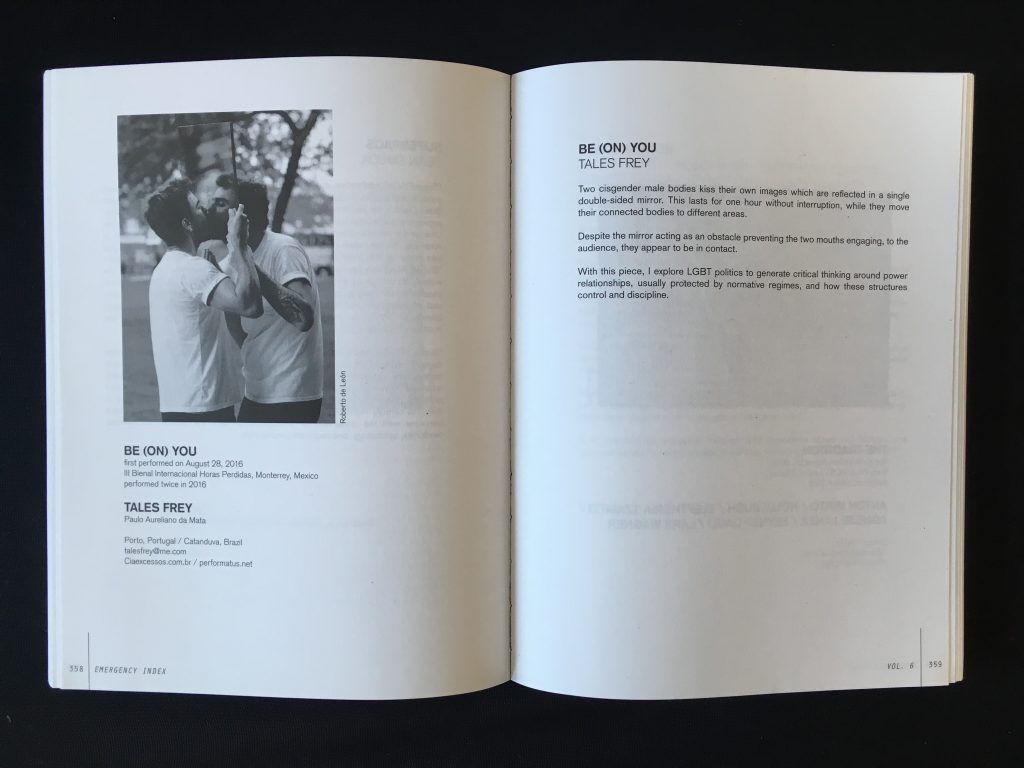 Be (on) You (2016) by Tales Frey published in the catalog Emergency Index Volume 6 (Ugly Duckling Presse, 2017)