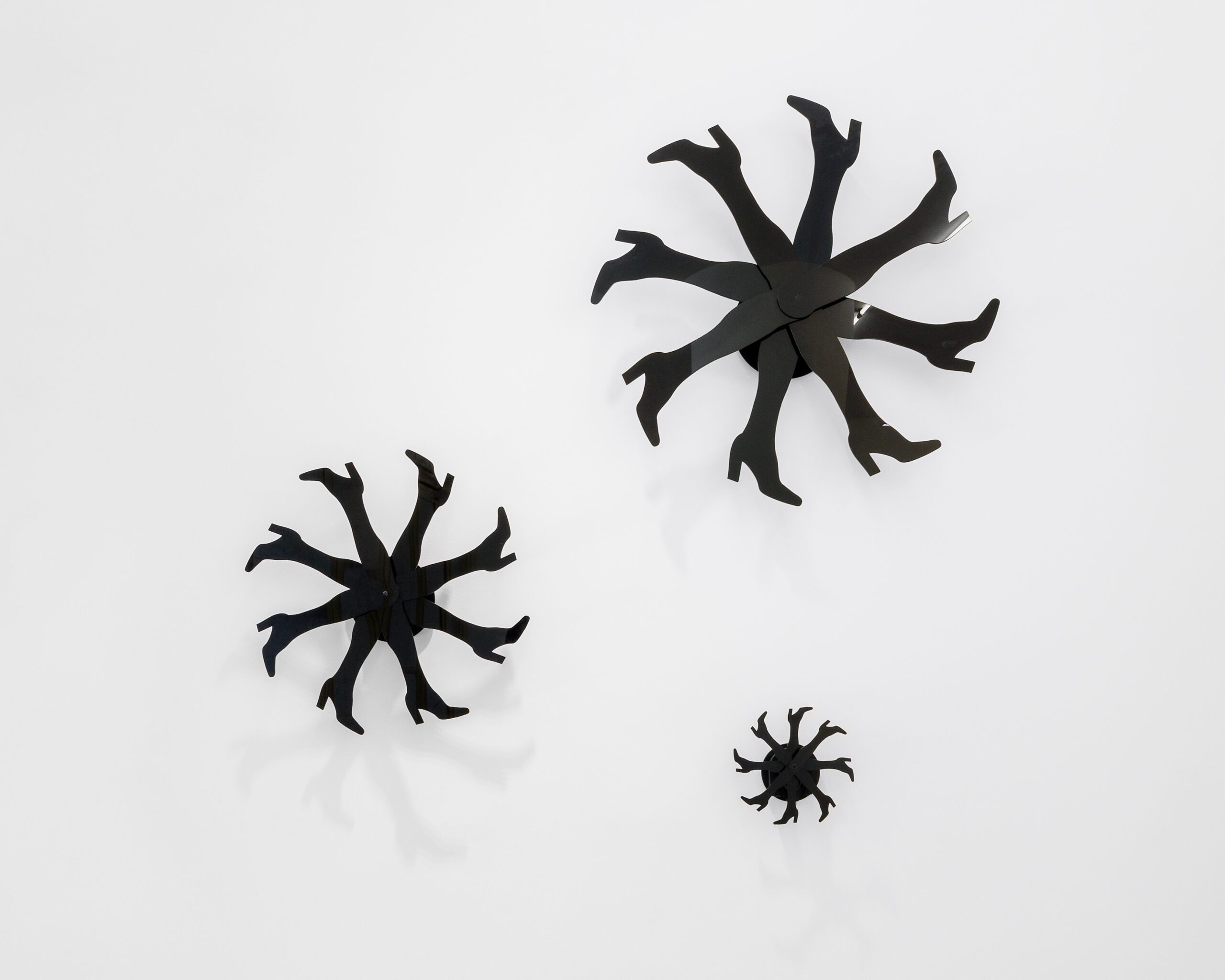 Tales Frey, Thighlighting, 2020. Acrylic kinetic objects, diameters of 100 cm, 60 cm, 30 cm
In 2020, when I revisited a design prepared by me in 2018 during the first quarantine to contain the coronavirus pandemic, there was a rescue of very remote experiences and which, only in 2020, I managed to assimilate (now completely evident) stimuli for my practice artistic. One of the memories – which I now understand as a flagrant influence for me – was my approach to the Corpus Gymnasium, a sports gym that my mother had during the late 80s and early 90s in the interior of São Paulo, where I was presence dance choreographies and rhythmic movements in group classes with female bodies uniformed in almost similar costumes and standardized in their physiognomies to satisfy the demands of a hegemonic pattern.
"Thighlighting" is a kinetic sculpture initially made on rigid paper (still as a sketch) with the aim of being presented in recycled acrylic, through which I expose legs assimilated as female, although they correspond to my own body contours.
The term "thighlighting" refers to an aesthetic process that basically consists of a complete reform of the legs for men and women through surgeries or natural methods

.
HISTORIC
[2021] Individual exhibition Between Tension and Delirium. CAAA Centro para os Assuntos da Arte e Arquitectura, Guimarães, Portugal.
[2020] Individual exhibition Meat Indicators. Galeria Ocupa, Porto, Portugal, 2020.
Tales Frey, Thighlighting, 2020. Acrylic kinetic objects, diameters of 100 cm, 60 cm, 30 cm