Tales Frey, Please, Don't Touch, 2015. Video, 1'34"
In a hole made in a white wall of a gallery, from inside I fit my butt and I stand for about 2 hours. The butt is not placed in its actual height; it is presented to 1m60cm away from the floor.
CREDITS
Performance art by Tales Frey | Length of the action: about 120 minutes | Production: Cia. Excessos | Porto, Portugal 2015
HISTORIC
LIVE
[2015] I Queer Porto. Espaço de Intervenção Cultural Maus Hábitos, Porto, Portugal.
AS VIDEO, INSTALLATION AND/OR PHOTO
[2018] Banheirão de Quinta. Curated by Vinícius Davi. Alinalice, Rio de Janeiro, RJ, Brazil.
[2017] Desova – Mostra de Performance Arte e Novas Mídias. Belem, PA, Brazil.
[2016] Mostra XØKE. Largo da Alfândega, Florianopolis, SC, Brazil.
[2016] Esforços #2 – Mostra de Performances. Curated by Caio Riscado and Lucas Canavarro. Olho da Rua, Rio de Janeiro-RJ, Brazil.
[2015] Collective exhibition 2º TRAN(S)SARAU – Do Pulso à Virilha. Curated by André Rosa. Coimbra, Portugal.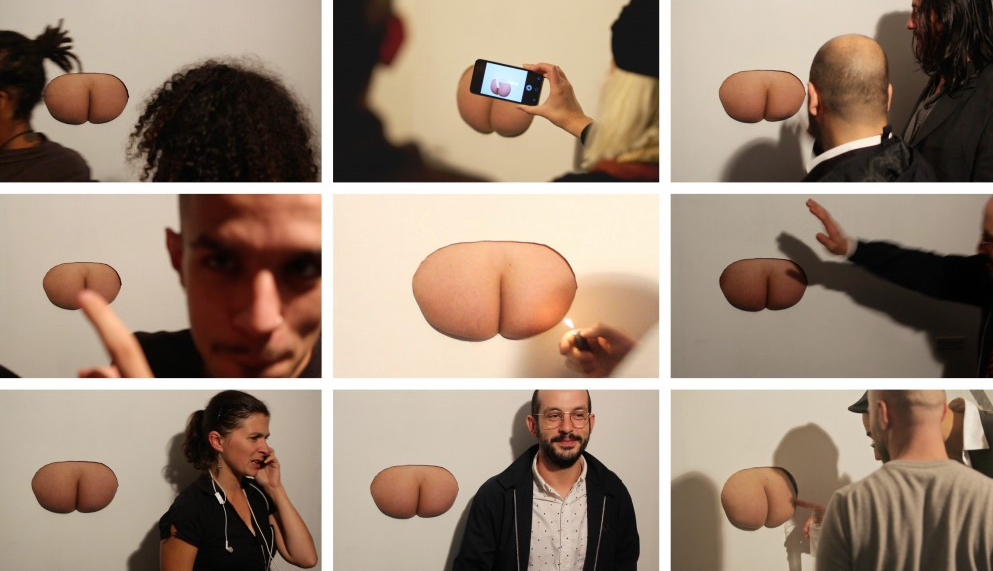 Tales Frey, Please, Don't Touch. Performance art realized in Porto, Portugal. October 2015. Photos by Hilda de Paulo